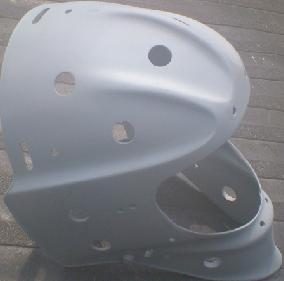 Day#3 Putting primer on the mask.
Now the mask has been primed. The holes, and dings of the mask were filled in before I primed the mask. I primed the mask with automotive primer. I used the Duplicolor brand. They come in all shades of grey. Any one will do. Next I will spray a even coat of black all over the mask for a basecoat color.
When the primer is dry you can look over the masks' shell and see if any imprefections, runs, dings,scratchs, whatever is visible. This will come through the basecoat so I have to sand these areas down so my basecoat is nice and even.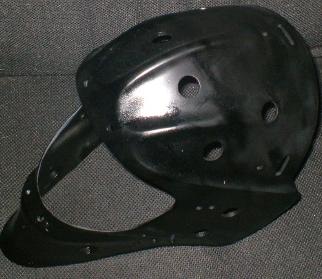 Day#4 Basecoating the Mask
Now the mask has been basecoated with a few coats of black. It looks like flat black but it is not. I made sure it was durable by adding 4 coats. The inside has 2 coats.
I repainted the inside to clean up the look some what. Now I am ready to start laying down the design and adding masking tape and cutting out the designs. I have to be careful not to cut the paint with the exacto knife. Gary wants a Komets theme and his two sons on the top of the mask.
(Below) After a few days of painting heres what I got so far. A Komets symbol in progress, orange chin section with Garys nickname "Ruchski"
The other side has a mask that resembles the one used by oldtime fan fav Komets goalie Robbie Irons. The forhead which will display Garys two sons with barbed wire like representing protector or something as him being the father.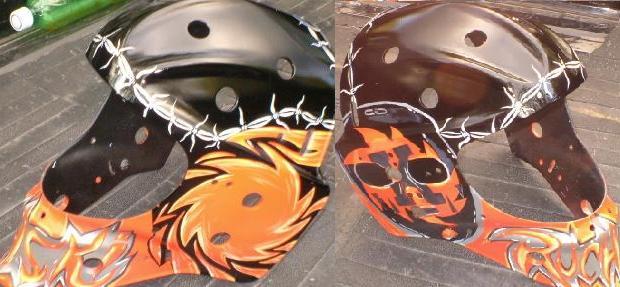 (BELOW) Finally the mask has been completed. The two boys were added and alot of clear coat. I will add pics of the back plate later on. The two boys was the toughest thing I have ever tried to paint on a mask and I stuggled with it alot ,but I guess it looks ok. Human faces are tough becuase if you dont do as close as possible it may not look like the person. I can do monsters and animals easy ,but humans are tough. It was fun doing this mask. Painting a mask is cool ,but I had to refurbish the mask and bring some life to it. The mask is gonna get new padding and were gonna try and get a up to date cool cage for it. From what it used to look like I dont think Gary cares either way. Enjoy Ruchski.