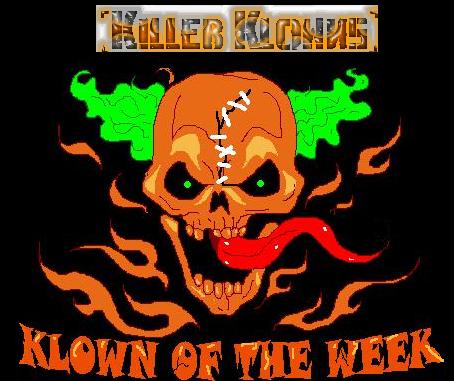 Klown Of The Week!
The Klown of the week is decided by the 3 captains. This season we will give the players a $10 gift card to best buy each week for there play.
( session 2 we are not honoring personal achievements...instead were gonna kick your hockey teams royal ass allover the rink.......see yah.)
WEEK 1-
WEEK 2-
WEEK 3-
WEEK 4-
WEEK 5-
WEEK 6-
WEEK 7-
Honoring the weeks most evil Klown.
MVP WILL PLAY FOR FREE SESSION 2
MOST GOALS AND ASSIST PLAYER WILL GET $10 OFF TEAM FEE.
ALL OTHER CATOGORIES WILL GET SOME SORT OF MOVIE PASSES, RESTURANT AND BEST BUY GIFT CERTIFCATES.
GOOD JOB TO THE PLAYERS POSTED ABOVE.