KILLER KLOWNS HOCKEY
The Killer Klowns hockey team is known as the most feared hockey team in Ft. Wayne. Three years ago a team was assembeled of some High School hockey players and four players from the Fort Wayne Komets, Doug Teskey, Kevin Bertram, Kevin Schmidt, and Kelly Miller. With a lineup like this you would think that it would be complete domination by the Klowns, that was not the case. With internal team problems, some under achievers, and other teams almost getting their ass beat by Kevin Bertram, the focus wasn't there. When that season was over, so was the Killer Klowns, the team was retired and the name would never be worn again......UNTIL NOW!
The 2005 season was a great one. The 3rd year of Klowns hockey was the best ever. The Klowns found a new stomping ground in the Roller Hockey League in Auburn Indiana going undefeated in the playoffs and winning it's 1st Club Championship with an almost all new roster. Looking for a new challenge and hoping to one day get this team on the ice is the main goal or defending there crown next summer in Auburn. The Klowns are ready for 2006!
message board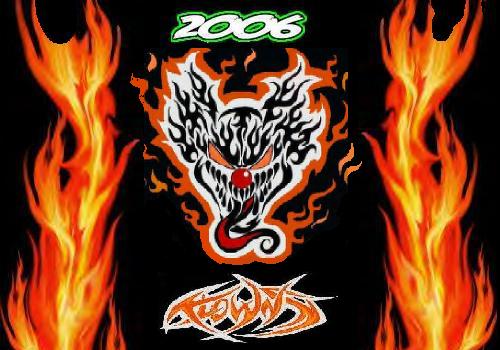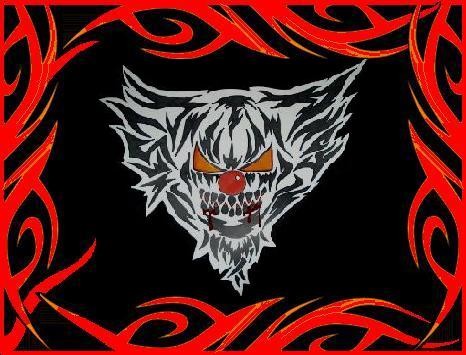 All the artwork is property of the Killer Klowns. The tribal Klown lettering and the Klown head have been copyrighted. So if you use them........we will kill you foo!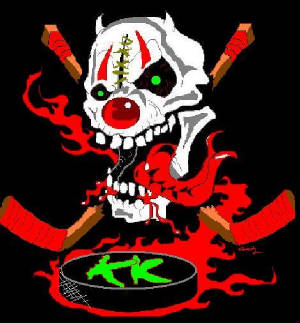 The site you are about to see is the account of what became of a group of hockey teams. When looking back it is all the more tragic in that these teams were found in a unspeakable demise. Had they lived , very, very long lives they could not of expected nor would they have wished to see as much of the mad and the macabre as they were to see that game. For them friday night hockey games turned into a nightmare. The events of those games would lead to the discovery of the most bizzare clan of the insane...........THE KILLER KLOWNS HOCKEY TEAM.
killerklowns.co.nr

Wear what the Klowns wear! Custom jerseys from BIGSTICK!